CHOMPIE'S IS THE PERFECT CATERING SOLUTION
Chompie's custom catering checks all the right boxes:
We are proud to have won many 
awards since 1979
 including Best Caterer, Best Bagel, Best Chocolate Dessert, Best Deli Sandwich, and Best Place to go for Breakfast.
CATERING SERVICES AND OPTIONS
What's a party without great food? Celebrate Bar/Bat Mitzvahs, birthdays, office parties or other gatherings with your Chompie's New York Deli favorites. We cater full buffets, breakfasts, hors d'oeuvres, desserts, and more. Chompie's catering carries on our restaurant's tradition of generous portions. Your guests will never leave your party hungry!
Our customized catering services will help you make your wedding, rehearsal dinner or other celebration as special as can be. We know how food brings people together; meals make lasting memories. Our caterers will incorporate your wishes to build a menu best-suited for the occasion.
Chompie's makes it easy to celebrate with traditional, delicious foods for the holidays.
Our Kiddush and Passover menus include favorites such as Grandma Sadie's "Killer Kugel" and beautiful, Queen Anne braided Challahs, and are ideal for large gatherings.
GO ONLINE, CALL, OR VISIT US TODAY FOR SPECIAL SEASONAL OR HOLIDAY MENUS INCLUDING:
Chanukah | Christmas | Passover | Rosh Hashanah | St Patrick's Day | Thanksgiving | Yom Kippur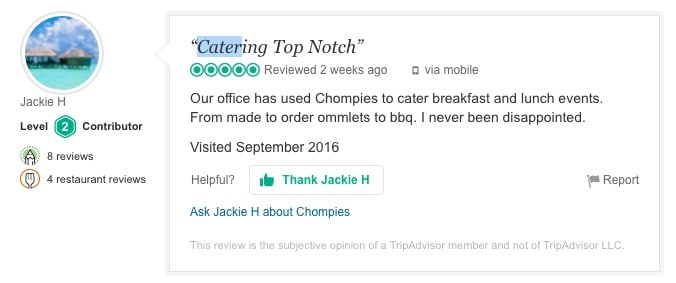 We know how important catering is to your business' performance and credibility. Our packages pair incredible presentations with delicious flavors. Impress your prospects and thank your clients with our Executive Box Lunch packages. We have experienced staff on hand to work within tight deadlines. We'll deliver on time and with a smile, allowing you to focus on your presentation.
HOW DOES CATERING AT CHOMPIE'S WORK?
Chompie's catering is here to help you accomplish the perfect event. When you call our Catering Services number, our experienced staff will take your guest count, venue type, staffing needs, and other event information to build a menu and get back to you with a quote.
To Speak with Our Catering Services Staff 
Chompie's delivers 7-days a week to your office, home, campus, or banquet hall. In any part of the valley, we'll be there. Need a venue? Reserve a Banquet Room with a manager when you visit your local Chompie's.
Fill out the form below, and we will get back to you within 48 hours.
For a Quicker Response
If you have placed a catering order, and have received your invoice number, you may process a secure online payment by clicking Pay Now and enter the required information.