Chompie's Bakery Restaurant:
A Little Taste of Home
The Bakery is always the first thing to welcome Chompie's guests as they walk into any of our locations. You can distinguish it by the scent of hearth-baked bread and rolls, the shining crust of the pastries, and the sound of children laughing at the colorful Sesame Street cupcakes. After over 40 years in business, the Chompie's Bakery has earned several awards for desserts and classic bread. Like any great melting pot, our Bakery's case is always loaded with goodies from all corners of the world, ranging from Cannoli's to Mexican wedding cookies.
Chompie's bread and bagels are available on our dining menus, at our bakery counter, and in our online store. Also look for Chompie's bakery brand at Fry's Food Stores, Bashas', Albertsons, and Safeway.
Take Home Your Sweet Tooth Fix and Baked-with-Love Bread
Award-Winning N.Y. Style Bagels & Bialys
Chompie's has been making authentic New York-style boiled-then-baked bagels from scratch since we opened our very first location in Phoenix in 1979. In fact, the sign on that original location used to read "Chompie's Bagel Shop". With your first bite into one of our bagels, you'll taste the difference. Only the finest premium ingredients are used. You'll love the slightly crispy outside, perfectly balanced by the fluffy yet dense and chewy interior. Check out our huge variety of Chompie's Bagels and Bialys.
Hearth Baked Challah Bread
Chompie's Challah is hand-braided, with dough made from the finest, unbleached wheat flour, pure cane sugar, and whole eggs, resulting in an authentic old-world flavor and texture. Some call Chompie's Challah, "Gourmet" Egg Bread and it's easy to see why after enjoying it on a sandwich, french toast, or straight out of the breadbasket.
Hearth Baked Rye Bread
True to tradition, Chompie's uses whole rye grains in combination with wheat flour, a hint of brown sugar, caraway seeds, and ground spices for an authentic unique old-world taste. Chompie's then bakes the dough for long periods at a low temperature resulting in a slightly crisp outside with a soft and chewy inside.
The perfect accompaniment to any sandwich or terrific on its own. Our rye bread is available on our dining menu, at our bakery counter, and on our online store page. Also look for Chompie's Rye Breads at Fry's Food Stores, Bashas' and Safeway.
Hearth Baked Classic Bread
Chompie's has taken classics like Cracked Wheat, and Sourdough bread and incorporated their distinctive baking traditions. By using only the finest ingredients and baking them in old-world-style ovens, Chompie's creates classic bread that has a truly authentic texture and taste. Our classic bread is available on our dining menu and at our bakery counter. Also look for our bread at Fry's Food Stores, Bashas' and Safeway.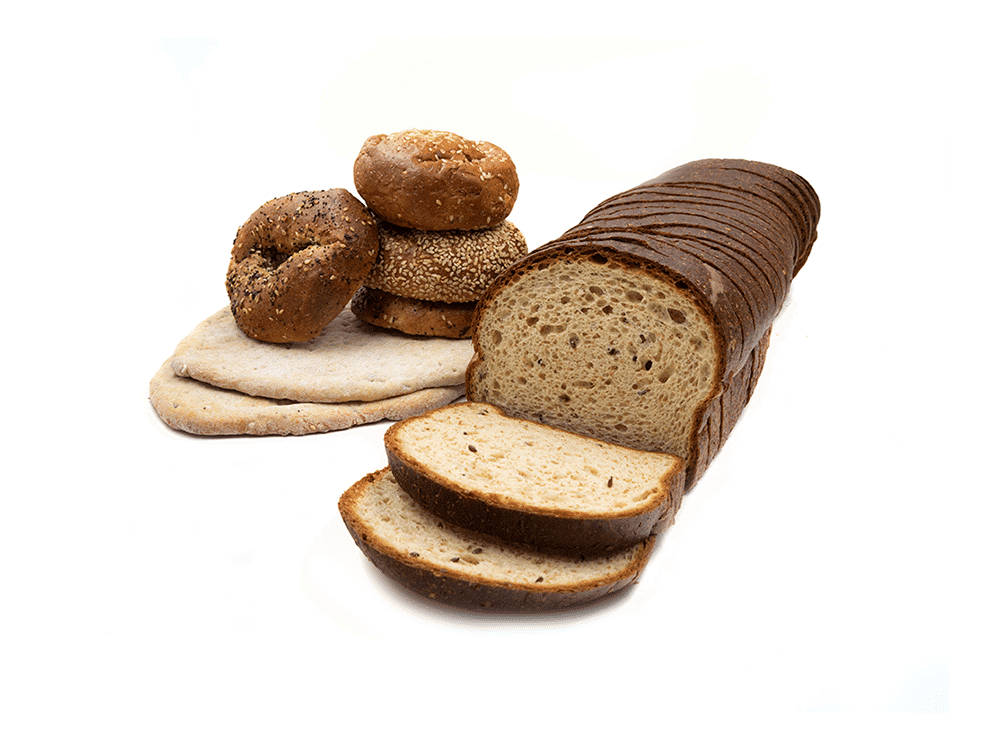 High-Protein, Low-Carb Bread
Chompie's Keto-Friendly, Low-Carb, High-Protein bread is a coveted consumer favorite across the US and Canada. We use only the finest NON-GMO kosher ingredients available in our bread. With approximately 2 grams net carbs, 9 grams of protein per serving, and no sugar, Chompie's Keto-Friendly bread lets you eat smart without sacrificing great taste.
Homemade Cookies Including Our Famous "Black & Whites"
Chompie's has been baking our famous Black & Whites along with our many other homemade cookies from scratch since 1979. The Black & White is a cookie that has been around since 1902 and has an iconic status in New York. It's even been featured on the classic TV show Seinfeld, referenced by the now-famous line," Look to the Cookie". It is a soft shortbread cookie that is iced on one half with vanilla and on the other half with dark chocolate, and it's always been the number one selling cookie at Chompie's. Regardless of its fame, we think you'll agree that this cookie is loved and enjoyed by everyone, everywhere. Chompie's Bakery is also particularly well-known for its Jewish Heritage Classics cookies, made from authentic Borenstein family recipes, such as our hamentashen (shaped like Haman's hat and filled with jam) and our rugelach (made by rolling butter and cream cheese dough around a sweet filling). During many popular holidays, you can often find our melt-in-your-mouth butter cookies, which are available year-round at Chompie's, and at Fry's Food Stores.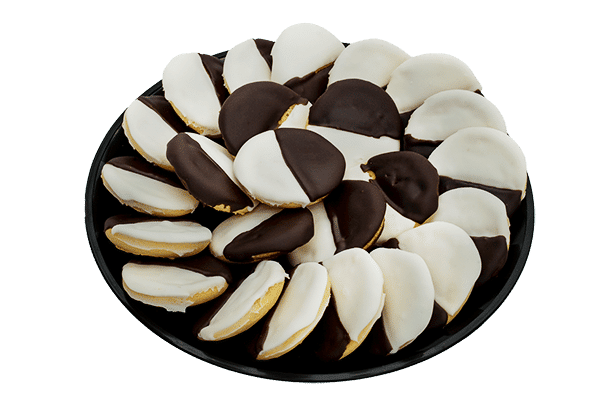 Gourmet Cakes & Pastries
Chompie's makes such a wide variety of fresh-baked-from-scratch cakes and pastries, we'd need a lot more space than this to list everything! So, be sure to stop by Chompie's Bakery case for a feast for the eyes of sweet bakery treats. Enjoy our famous homemade rugelach, award-winning homemade N.Y. style cheesecake, Brooklyn 7-layer cake, napoleons, custard eclairs, lemon bars, cupcakes, brownies, hamentashen, and so much more. Be sweet to yourself and enjoy! We also make wonderful custom cakes, cupcakes, and decorated cookies for all occasions. Contact us for information about ordering our custom cakes and pastries.
Breakfast Pastries
Since 1979, Chompie's has been satisfying breakfast sweet cravings in the Valley of the Sun. Using the finest ingredients, Chompie's award-winning pastry chefs have created a variety of scrumptious fresh-baked breakfast pastries like cinnamon rolls, cheese pockets, honey raisin bran muffins and muffin loaves. (Selection may vary.)