We are so grateful to have been serving our guests the ultimate in East Coast tradition in the Valley of the Sun for over a third of Arizona's state history!
In 1979, the Borenstein Family — Lou & Lovey and their children, Mark, Neal and Wendy ventured west from Queens, New York to Phoenix, Arizona and fulfilled their dream when they started their new business, Chompie's Bagel Factory, in a strip mall at 32nd Street and Shea.
Over the years, our "family" has expanded to include spouses, grandchildren, dedicated staff members–and you! With the support of our valued customers, locals and visitors alike, Chompie's has grown to include multiple New York Style Deli, Restaurant, Bagel Factory & Bakery locations in Phoenix, Scottsdale, Tempe, Chandler and Glendale. Still, each and every customer is as important as our first.
Chompie's serves up a huge menu of award-winning breakfast all day, lunch and dinner 7 days a week, including authentic N.Y. style pastrami and corned beef Mile High Sandwiches, traditional matzo ball soup, fresh specialty salads, burgers, chicken sandwiches, smoked fish, homemade "All Time Favorite" dinners, omelets, eggs benedicts, pancakes and waffles, Jewish Heritage Classics and so much more. Our Jewish Sliders were made famous when they were featured on Travel Channel's Man v. Food.
Our expansive Bakery & Deli counter has an extensive variety, featuring traditional Jewish specialties like our knishes and potato pancakes, plus smoked fish, deli salads, premium meats and cheeses and our many homemade cream cheese flavors. You'll also find our own fresh-baked from scratch breads, cakes, gourmet pastries, and, of course, our world-famous multi-award-winning N.Y. style boiled-then-baked Chompie's Bagels in many varieties morning to night.
We invite you to hear more of our story through our award-winning YouTube videos, which feature Lou & Lovey genuinely, openly, and often humorously reminiscing at their home about how it all started, where it has led with Chompie's, and how they have "survived it all"…together.
Thank you for stopping in for some good food, family and friends — the good things in life!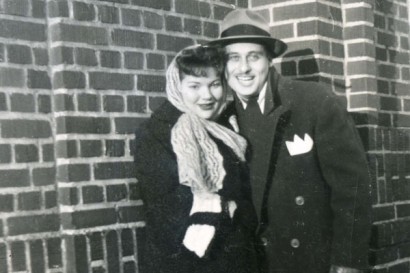 (Pictured: Lou & Lovey Borenstein in NYC, circa 1950)
(Pictured: Neal, Wendy and Mark Borenstein at Chompie's in 1979)
(Pictured: Neal, Shirli, Wendy, Mona, Mark, Lou and Lovey Borenstein)