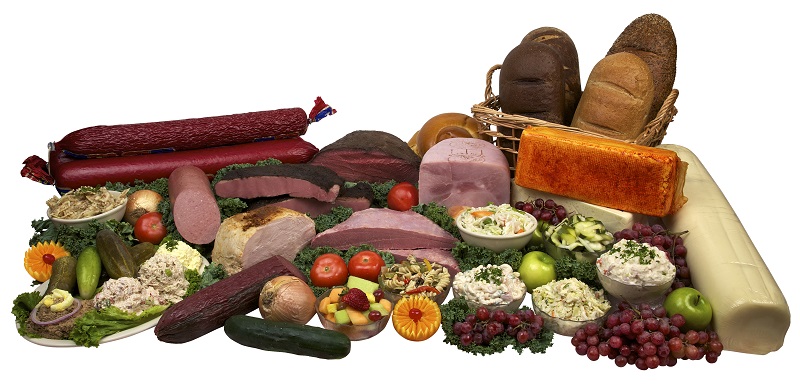 Chompie's full-flavor deli includes several varieties of smoked fish, traditionally prepared meats, cheese, and salads.
You can find Jewish deli favorites such as hot brisket of beef and pastrami, sliced to order or on our famous Mile-High deli sandwiches.
Enjoy these slow-cooked delicacies with a dine-in experience at Chompie's restaurant or cater your next party in old-world taste.
Adjoining the deli is our bakery counter featuring Chompie's authentic boiled-then-baked bagels, desserts, and classic freshly baked breads.
Traditional Meats - Sliced to Order
- Pastrami
- Roast Beef (Roasted Daily)
- Hot Brisket of Beef
- Hot Corned beef
- Turkey Breast (Roasted Daily)
- Soft Salami
- Hard Salami
- Boar's Head Ham
- Beef Tongue - subject to location
Chompie's Superior Smoked fish
- Nova or Belly Lox
- Baked Salmon
- Smoked Whitefish
- Marinated Herring
- Creamed Herring
- Chopped Herring
- Smoked Black Cod
Deli Salads and Favorites
- Smoked Whitefish Salad
- Tuna Salad
- Chicken Salad
- Egg Salad
- Chopped Liver
- Grandma Sadie's Meatloaf (Hot or Cold)
Cheeses
- American
- Havarti
- Swiss
- Cheddar
- Jalapeño Jack
- Monterey Jack
- Muenster
- Provolone
Main Attraction: The Mile-High Sandwich
As Chompie's proudest architectural feat, the Mile-High deli sandwiches are made to satisfy.
Our deli meats are full of flavor and served generously on the homemade bread of your choosing.
Get fresh, sliced to order Pastrami, Roast Beef, Brisket, Corned Beef, Turkey Breast, Pastrami Turkey, Soft Salami, Hard Salami, or Boar's Head Ham.
You can get your deli sandwich hot or cold, by itself or paired with a savory Knish.
Browse all our sandwich options, including Colossal Reubens and New York Triple Deckers, on the lunch and dinner menu.
Breakfast Menu Items Starring Our Deli Favorites
What's the perfect start to a deliciously good day? Check out some of our favorites from the Breakfast Menu at Chompie's.
The Corned Beef Hash is the stuff of traditionalists' - and Lumberjacks' - wildest dreams. It starts with a base of our signature hot corned beef, potato, onion, and spices and tops it all off with two eggs, your way. Yes, some dreams really do come true.
The classic love story begins with savory smoked fish married with a schmear of plain cream cheese on a toasted bagel.
Our Weekday Special, The Wall Street Lox & Bagel, is a quick and light getaway for any morning grind. Artfully smoked Nova (belly) Lox is sandwiched between cream cheese, thinly-sliced onion, and tomato on your choice of bagel or bialy.
Try a Mimosa or our Signature Bloody Mary as a perfect breakfast companion.
Chompie's Media Mentions
At Chompie's, we've been honored by the critics with "Best Deli" titles for over a decade.
Our restaurant has also been recognized for specific deli items (like our Jewish Sliders, loaded with our moist lean brisket) by the likes of The Travel Channel (check out Man vs. Food) and Food Network.
We've also earned recognition as the Valley's Best Jewish Deli for several years. Where else can you buy old-world Tzimmis to-go during Passover? We do it for the love, and we put love into everything we do.
True, customers and critics over the years have sung the praises of Chompie's deli like it's their Broadway debut.
But don't take their word for it - order one of our award-winning deli menu items today at a Chompie's near you.